Madame decided to stay in Secaucus to pick up presents for people at home and get some solo time. Pest and I got to the Rockefeller Centre before the queues built up. The sun blessed us and we got long clear views of the city at its most beautiful.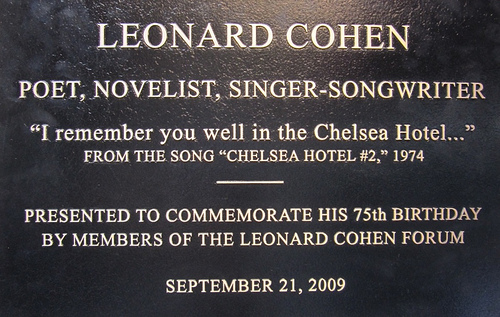 After a bit of street wandering we separated and I had another walk in Central Park. I watched some guys playing a strange game where they gathered round a small trampoline and kind of played tennis onto it. (?)
The three of us met up again at Macy's where I treated myself to a watch, and we walked downtown to see what we'd find. We found a street flea market and the Chelsea Hotel, now bearing a plaque commemorating Leonard Cohen.  The girls decided to head back to TKTS to see if we could bag another show, while I headed to Union Square and Strand Books – 18 miles of 'new and used books at bargain prices'.
I emerged from Times Square subway to street level and walked into a flashmob of high-fives: everyone seemed to be high-fiving strangers, prompted by a text or tweet I guess.  It spread a good bit of cheer and was over as quickly as it started. The girls hadn't managed to get good seats for anything, so we headed back to Vintage at Hell's Kitchen for cocktails followed by a Greek meal.